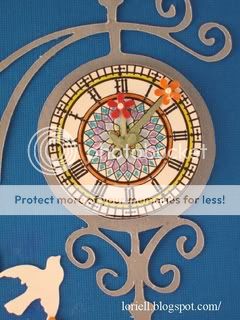 Happy Monday Everyone!
I guess I'm getting anxious for Spring!
This is my husband's Easter Card. I tried not to make it feminine.How did I do? I found this stuff at Hobby Lobby called Triple Thick brush on gloss glaze for the clock pole. It's similar to Stampin Up's Crystal Effects but much less expensive. Now I have to put it in something to help me keep the bubbles out of it.The post is from the Cricut Christmas Noel cart. The clock is an SVG file. The clock face I printed from the web and used S.U. markers. The bird is a Martha Stewart punch. The flowers and stems are punches and the centers are pearls. The words are from SCAL. The silver paper for clock is from SU. The close up picture is the true color. I normally use pastels but liked the way these bright colors came out. The blue is from Hobby Lobby single sheet section.
ENJOY! I LOVE TO HEAR FROM YOU ALL!!
Click Here for SVG file Clock Hanging Pretty